Soffit Repair & Installations
First, what is soffit and what is fascia?
Soffit is the underside element of a building most commonly found under the eaves on the exterior of a house. The soffit extends from the side of the house to the edge of the eave or fascia.
A "fascia board" is usually made out of wood but can also be metal or other materials, it caps the end of rafters outside a building and optionally it is used to hold gutters.


Why a house needs soffit or fascia?

The soffit and fascia protect your home from water damage while improving its appearance.
Eliminate extra costs for painting those hard-to-reach places, vinyl soffit will maintain its appearance for many years.
They control moisture and rotting problems inherent in eaves and overhangs.
Our aluminum materials (soffit and fascia) are .019 in thickness.
As with all our installations we warranty our workmanship to be free from defect for a period of five years.
They increase the value of your property.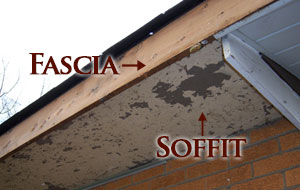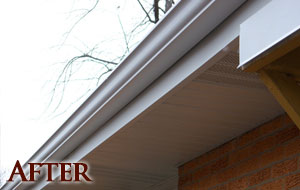 Do not hesitate to call us at 404-933-4577 with any questions or to schedule a free estimate.